Happy Wednesday!
The last week & a half have dragged.  I blame the weather.  The sun hasn't been out since last Monday!  And it doesn't look like we'll be seeing it again anytime soon.  It's been cold, cloudy, and rainy which really kind of makes me a Debbie Downer.  It's supposed to be spring!  Why is winter still hanging around?
What We're Eating This Week
I need some serious help.  How the heck do you find time to cook meals in the evenings?  I've mentioned this before but Curtis & I usually eat the same thing every. single. week.  We usually don't get home until 6:30 or 7 so the last thing we want to do is spend all night cooking.  I've scoured Pinterest, cookbooks, etc. but nothing really looks that good, ya know?  Even though I hate cooking, I do enjoy prepping on Sunday afternoons/evenings but I need ideas!  What are some good healthy-ish meals to prep for both of us during the week that don't taste like crap when re-heated?  And salad is out of the question because Curtis eats it every day for lunch.  And chicken.  I can do shredded salsa chicken but leftover baked chicken…nope.  (UNLESS you have a trick to make leftover baked/grilled chicken actually taste good…)
What I'm Reminiscing About
TimeHop has been reminding me of our trip to Denver in 2015.  It has been far too long since we were out there & we need to go back!  And maybe actually go up Pikes Peak rather than take our picture with it in the background.
And spring break 2008 when I spent the week back home in Lincoln & got to hang out with some of my favorite people!  (Do you remember those Dooney & Burke bucket purses???!!  I think everyone & their mom had one!)
What I'm Loving
Daylight in the evenings & somewhat warm(er) temperatures.  Although I think mother nature has lost her mind because we've had temperatures all over the place this past month– some days have been nearly 80 while others have been in the 30s or 40s.
Spring shoes at Target.  I want ALL of them..  especially these three!
Quilted Sneakers  |  Gladiator Sandals  |  Studded Heels
My current slip on sneakers are seriously falling apart but I still wear them.  I've needed a replacement for quite awhile now!
What We've Been Up To
We celebrated a surprise 30th birthday with our friends in Nemaha.
The next weekend, Curtis & I celebrated my 29th birthday last weekend by hitting up Crescent Moon for some good food.  Then some drinks at Scriptown and Nite Owl.  I wasn't feeling too hot the next day & definitely felt my age!  Clearly I can't party like I used to!
I also had a belated birthday celebration last weekend with my mom.  She came to Omaha so we did some shopping and then saw Beauty & the Beast in the evening.  Unfortunately I don't remember her taking me to Beauty & the Beast back in 1991 but it was kind of cool to be seeing it together again 26 years later!
What I'm Dreading
I'm due for another haircut which means trying to find a decent stylist.  I've lived in Omaha for 3 1/2 years now and still haven't found someone to go to on a regular basis.  Well, I take that back.  I was going to the same girl for about 9-ish months until I went to make an appointment with her & was informed she no longer worked there.
Oh, and paying for a new passenger side mirror (you can read about my awful week here).  I haven't scheduled anything yet but I never realized how much I actually use my side mirrors!
What I'm Working On
I started purging some of my clothes & shoes a few weeks ago but they haven't made it out of the house yet.  I've been planning on take some things to Plato's Closet even though I'll only get pennies for it but it's better than nothing.  I've kind of given up on sending any clothes to ThredUp because they don't give you anything anymore.
What I'm Excited About
We learned that there have been some people interested in adopting Sophie which is great news!  She has a follow up appointment for the heartworm treatment next week & then she can finally be spayed.  Once that is all completed, I think people will be more willing to adopt her.  I'll be sad to see her go but I don't think I'll cry as much as I did when our first pup got adopted.
What I'm Watching/Reading
American Crime started up again two weeks ago (which I didn't even realize because I haven't watched much TV lately).  Do you guys watch this at all?  I wasn't a huge fan of the first two seasons but so far, I'm really intrigued by this new one!
I just finished All Is Not Forgotten yesterday and started reading Darktown last night.
What I'm Listening To
I've added a few new songs to my work playlist– I keep this playlist downloaded to my phone so I can listed to it at work without using all of our data up.
What I'm Wearing
Sweatpants & a long sleeved shirt.  I'm typing this in the evening & it's almost my bedtime!
What We're Doing This Weekend
The weather doesn't look like it's going to be too great so we might be hunkered up inside.  BUT… we're going to see Highly Suspect on Saturday night which I've been looking forward to these past few months.
What I'm Looking Forward To Next Month
Concerts!  This weekend is Highly Suspect and next weekend is Eric Church.  I honestly kept forgetting about the Eric Church concert because I bought the tickets FOREVER ago.  But, it's going to be a girls night which I'm super excited about!
What Else Is New
My department has changed up how they do interviews for new applicants which includes a peer interview.  There were about 20 of us that were chosen to be one of these "peers" so they started doing these last week.  We ask them a list of questions & then take them on a tour of the office.  After they leave, we meet up with the supervisors that did the first interview to go over our thoughts.  It's definitely different from how they have been doing things but also kind of nice that they are taking our thoughts into consideration.
I also talked about our 6 month house update here.  (I was a little late but hey, I finished it!)
Bonus: Favorite Spring Wardrobe Piece
Sandals!  From the moment the weather starts getting nice, I have to get them out.  I hate wearing boots/booties and good flats are always difficult to find.  This pair from Target is usually my go to!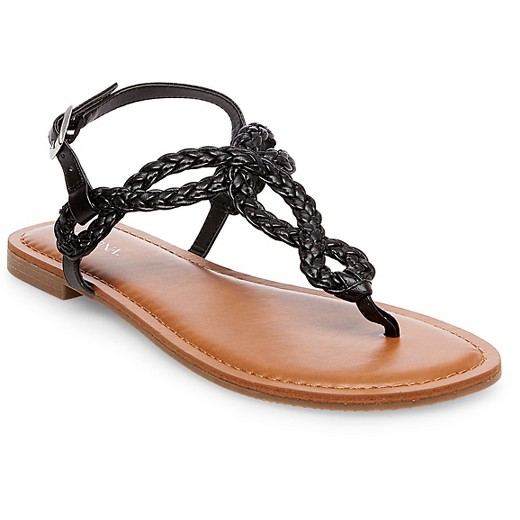 Have a great day everyone!  And please send some sunshine vibes to Nebraska!