I think last month was the least amount of shopping that I had done in a long time!  We had some busy weekends so I didn't have a lot of down time to make a trip to the mall or Target and mindlessly browse their stuff.  And guys, SOMEONE PLEASE STOP ME FROM BUYING BLACK CLOTHES.
This post contains affiliate links.
Old Navy Swing Dress |  I returned a different dress I had ordered online earlier and exchanged it for this.  After the return, I think I paid around $14 for it.  This style is probably my favorite out of all of their dresses so I was happy to see that they added some new colors!   
High Neck Swing Dress – $6.40 (this was when they had the major sale on dresses!!) |  This is pretty similar to some of their other swing dresses but has smaller straps & the material feels a little thicker.  
Mossimo V Neck Tee – $5.60 + 5% RedCard |  I'm always a sucker for these shirts from Target, especially when they are on sale (which is the only time I buy them!).

Merona Muscle Tank – $10 |  I love this top!  I need to get the other colors before they are completely out of stock too.  Muscle tanks are some of my favorites because I can wear a normal bra + I can get away with them at work because the straps are wider.  🙂  
Rimmel BB Cream – $6.49 |   This has always been one of my go to BB creams but I hadn't used it in quite awhile.  I have been using this in place of my regular foundation this past month because it feels so much lighter!   
Neutrogena Hydro Boost Face Wash – $7.99 |  I completely ran out of the Neutrogena pore-refining face wash & went to purchase it again when I couldn't find it anywhere in the store.  Not sure if Target just didn't carry it or if they are no longer making it.  So, I decided to give this stuff a try & I'm really liking it!  I think I like it more than the other stuff too! 🙂 
Shea Moisture Raw Shea Butter Restorative Conditioner – $4.99 |  I actually found this at Marshalls but since they don't have an actual website with items, I'm including a link to Ulta.  Unfortunately, I am not a fan of this stuff.  I'm not sure how this is possible but it almost makes my hair feel more dry than moisturized.  I guess it's possible that I got an expired or bad bottle since it was from Marshalls but I don't know if I want to try it from another store.  
Sonoma Huarache Sandals – $0 (paid with gift card) |  I love these sandals and have wore them SO much this month.  The only down side to these is that they are the same shoe for two different sizes — so 5/6, 7/8, etc.  I got the 7/8 which were a little snug but stretched out fairly quickly.  
Mudd Toe Loop Sandals – $0 (paid with gift card) |  I got these at the same time as the Sonoma sandals and have also been wearing these a lot!  They were also a little snug at first but stretched out nicely.  They are surprisingly REALLY comfortable and held up while chasing after the dog last Friday night.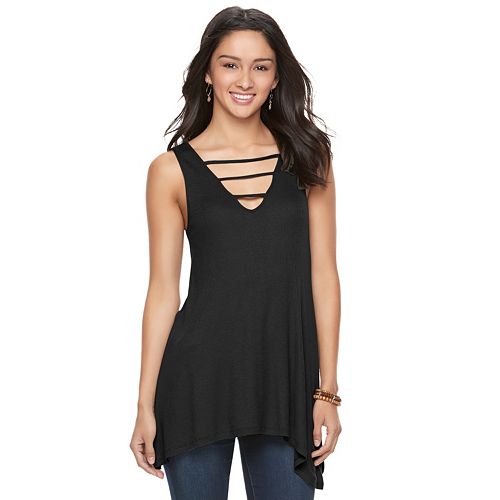 Mudd Sharkbite Tank Top – $0 (paid with gift card) |   Such a cute shirt!  I should have gotten some other colors.  This picture makes it look so much longer than it actually is.  Plus, I'm pretty sure it shrunk up a little when I washed it.  
Dr. Scholls Madison Slip On Shoes – $29.99  (similar newer style here)|  I saw these shoes at DSW a few months ago but could not pull the trigger on the $50 price tag (I know, it's not much but I'm cheap & wanted to spend my money on dresses this spring, not slip on shoes).  I kept waiting for a coupon but never got one!  So when I saw them at Marshalls for $20 cheaper, I snagged them!  Especially since we're closer to cold(er) weather now & I desperately need to replace my Roxy slip ons.  
Not pictured:  Tanwise Self Tanning Spray –  $10.49 |  A re-purchase of my tried & true self tanner!  
Returned:  Striped High Neck Swing Dress  –  I actually liked this dress but I decided to return it because white stripes right underneath my armpits + self tanner do not mix.  I knew it would be ruined within a few wears. 
As for this month, I am ONLY buying the essentials.  So, if I run out of something & don't have a backup, then I'm allowed to buy it.  But no mindless shopping or anything like that.  I have plenty of summer clothes right now and have no need to buy any fall clothes!
  Hope you all had a good weekend & have a great Monday!